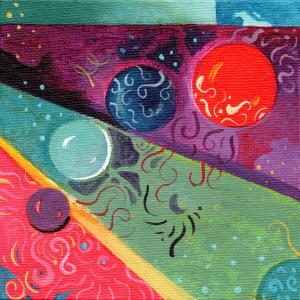 The past month in Northern California has been very wet and unfortunately floods have created a lot of destruction. We have remained safe here in West Berkeley and feel very grateful for this. But the fires last year and the recent floods have shaken up many communities here and have clearly reminded us all about the power of mother nature and the uncertainty that we live with in this world. Life and any earthly possessions can change and be destroyed in a blink of an eye, but luckily most material possessions can also be replaced, unless they are one of a kind, like original artworks. But of course, as long as the artist stays alive, they can always create more and most people who buy art also carry insurance on the art they have purchased. I hope that artists who live in the flooded areas did not suffer immense loss that is hard to recover from and will be able to pick up the pieces and start over again. To me it looks like Guerneville and Forestville and Sebastobol area residents are doing all that they can to support each other after the flood. Sometimes disasters do bring out the best in most people.

My own February experiences were mixed. My interior design and professional organizing business has lost clientele due to people moving out of the Bay Area and also not being able to continue working with me for their own personal reasons. But at the same time my creativity has been high and I have been making a lot of art and designs, both painting and digital. I will be participating in a Nordic 5 Arts group exhibition in San Francisco this coming April and May at the Think Round gallery. This exhibit is titled Nordic Light and I created a new piece that got accepted into this show together with two of my previously completed paintings. I will be showing three acrylics on canvas titled Creating Unity, Learning to See and Peace and Flow together with the numerous works of sixteen other fellow artists. This is promising to be a show worth seeing with a wide variety of styles and approaches to the theme of Nordic Light. My own approach concentrates on the inner light with the magical Finnish midsummer reflections on a time of the year when the sun never totally sets but only dips right below the horizon leaving Southern Finland in twilight for a couple of hours before it rises again. I have sweet memories of these warm midsummer nights in Finland scented with the sweet intoxicating scent of the blooming lilacs and midsummer tea roses and the delight of the birds singing all night long. I will always treasure these beautiful and precious memories.

Life is a mysterious mixture of light and dark, of pleasure and pain, of laughter and sorrow, of loss and gain. Life is an endless flow of energy from one form into another. Life is beautiful and at its core, all life is love.