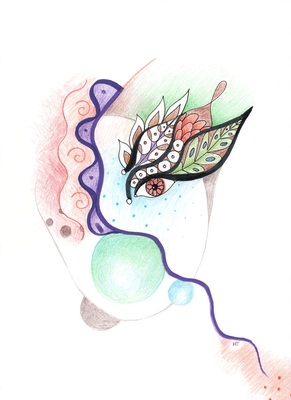 This is the first blog I am writing since September. The political craziness and Covid-19 pandemic drained me to a degree that besides making art I did not know what I wanted to say in a blog. The amount of lies and conspiracy theories and increasing amount of illness and deaths in the US were overwhelming me and I basically had a hard time believing what was going on and was wondering how many things that were unthinkable were allowed and even tolerated. I am still having a hard time with all of this, but I decided to reflect in a blog on how all of this has been affecting me.

I have not been able to work with any of my clientele in person for over eight months now, since I am not considered an essential worker as an artist and interior designer and professional organizer and also because my clients, many of whom are vulnerable, are scared of getting sick and want to avoid close contact as much as possible. Basically I am forbidden by the state to carry on my usual business activities since middle of March. At this point Alameda County is back in the purple tier, the most restrictive one of the different tiers. There is currently a mandatory curfew order in regard to all nonessential activities from 10 PM until 5 AM every day. I have spent so much time indoors in the past eight months that I kind of feel like I am imprisoned here in a house arrest. I know that things could be worse but this image is not very uplifting and certainly does not add to my well-being. We also had horrendous fires here in California in October which made the air quality really bad even in the SF Bay Area. I have never seen skies so dark and orange and such a lack of light from the sun. It was apocalyptic.

But back to the current day. Greg, my life partner, and I are trying to follow the restrictive orders the best that we can. Except for shopping for food and other necessities and getting take-out from restaurants occasionally and doing laundry, all activities have been handled from or at home. I did go to a dentist a while back for a cleaning and check-up. Greg and I have been getting a lot of sleep and sitting by and working on the computer for hours every day. We have also been streaming much entertainment/shows and movies on TV. We have not had any visitors since mid March. For a while I was sort of suffering from an artistic block and found it hard to motivate myself to make art, but one day not too long ago I decided to just do it and since then I have been making art nearly every day, at least drawing for an hour or two or more and creating digital art and designs on the computer. I am currently working on two colorful ink drawings by hand, which might turn into mixed media if I decide to involve color pencils in them. These works already have titles. They are Together and Hello and I recently completed and published the Keep Dreaming mixed media drawing, which illustrates this blog. I will be publishing this drawing here at FAA/Pixels in near future. I have already published it at RedBubble where it is available printed-on-demand on a number of products.

I am currently participating in an exhibition titled Water at the Vesterheim Museum in Decorah, Iowa: https://vesterheim.org/exhibit/water-contemporary-art/. Unfortunately due to the pandemic, this museum is currently closed to the general public. Hopefully sometime by April 2021 they will be able to open before this exhibition is over. I have also participated in some online virtual exhibits since March 2020 and a postcard exhibit that took place in Singapore. I am looking forward to the day that we can actually go and see exhibits in person without worrying about spreading a virus. I hope this day will come. Right now everything seems uncertain, but there is a promise of some vaccines becoming available in near future. I also recently heard about a nasal spray that is being developed to prevent illness from Covid-19.

I so wish that people would take this virus seriously and wear masks and keep their distance and not travel when not necessary. We are currently watching out for a surge from the Thanksgiving travel of millions of people, the consequences of which remain to be seen. I truly and sincerely hope that you will stay safe!

PS The original drawing, Keep Dreaming, is available. Contact me for more details, if you are interested.