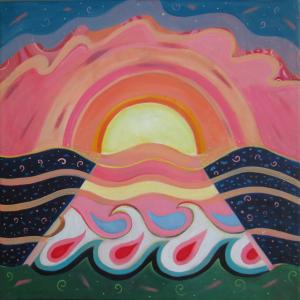 In the late afternoon and early evening on Saturday, March 30, Nordic 5 Arts Nordic Light had an opening reception at the Think Round Fine Arts gallery in San Francisco. This reception had a good crowd of people and the artwork was well arranged and enjoyed. Overall the air was cheery and enthusiastic and filled with friendly conversations and repertoire. Several people I had invited showed up and commented on the beauty of my artworks. I met and talked with many interesting people, some of them artists I had not met before. I am hoping that there will be many sales from this exhibit. Think Round Fine Arts has a mighty mission. Based on Heidi Hardin, the founder and director, the mission is to create community and to bring people together in spirit of peace and creativity. Their slogan states "Earth is Home. Humans are Family".

I have three acrylic paintings on canvas on the wall in this exbibit and three small works on paper in the bin. My acrylics on canvas are titled "Learning to See", "Creating Unity" and "Peace and Flow". My painting in the image illustrating this blog, Creating Unity, is about bringing together opposites and making this world a better place for all. In this light, the more love and goodwill and acceptance and appreciation there is in this world, the better off everybody will be. We can all cultivate kindness and gratitude and the more there is of these in the world, the more uplifting and positive results we will likely experience.

We had a very successful and friendly reception at the Think Round Fine Arts. Check out Think Round Inc. at www.thinkround.org and I hope you will also end up supporting their very worthy mission! The gallery hours are from 9 to 12 Monday through Friday and by appointment. Our Nordic Light exhibit will continue through May18, 2019. Do go and visit if you can!