February 3rd, 2019
Life can be so amazing. One day you may feel angry and frustrated and the next day all is well and even marvelous. Last Friday was a challenging day for me. I had overloaded myself with tasks to handle and many of these tasks were not what I wanted to do, but they had to get handled, and they did. But by the end of the day I was peeved. To my delight, after a good night's long sleep, I woke up feeling happy today and for no particular reason that I was aware of. Perhaps my body chemistry was in good balance today, or perhaps I had a subconscious sense of good things coming. I am not a person who is looking for fame, but recognition is always nice and uplifting. I belong to some artist groups on Facebook and have received some awards for my art in these groups, but never two in one day! Today I received an award for Best Drawing in Abstract Designers Group for my Gentle and Savage pencil and ink drawing. And a Special Award for my mixed media work in Abstract Expressions Group titled Higher Love - Heart of Hearts. I just joined the Abstract Expressions Group earlier today! Both of these awards surprised me and added to my good mood. I, like any other exhibiting artist, need recognition for my art and I am very grateful when I get this kind of soul food. So, thank you all for your support and encouragement and appreciation! It never goes unnoticed, so, keep it coming. Sales are great, but if you cannot afford to buy art, you can always acknowledge the works you like or love!
January 2nd, 2019
The year that just ended was one of the most challenging years I recall in my life. Many precious things broke down and developed problems, from our car to my computer and so much more. But somehow we got by and survived these at times extremely financially burdensome situations. Nothing that money would not solve happened to us, but at the same time my income diminished. I must say that I am glad we are going toward more light again as we slowly move toward spring. I feel better when the days are longer. Even though I am a night owl, too much darkness is depressing to me. The fires that took place in Northern California were horrendous. I have never in my life dealt with such poor and hazardous air quality and this is nothing in comparison to the loss that the fire victims experienced and likely are still experiencing. The strange thing about media is that once something else happens, yesterday's news become old fast and the focus shifts into the new disasters. The public is often left wondering about the developments that occur after the headlines change. Seems like everyone's attention span has become very short indeed. I think I followed news way too much this past year and found myself upset and annoyed at what I was hearing more than a few times. The whole political scenario could be enough to drive one crazy, not to talk about all the other annoyances and troubles in the world. Anyone who denies climate change should have their head checked. Seriously. This past year had so many different natural disasters happen all over the world that there clearly must be a link between climate change and the increased storm and fire and flood activity we have been experiencing globally. I hope it is not too late to make a difference in regard to this but I sense that time might be running out. After all, the glaziers are melting and the sea levels are rising even faster than earlier estimates. Seems to me that mankind creates many of its own calamities through ignorance and denial and irresponsible behavior. Leaders and decision makers could use a good dose of common sense and foresight. It is time that we show respect toward life on the planet Earth and not so much respect for money and greed. In spite of all the troubles in my own life and also life at large, I have managed to keep on making art and designing. Actual painting with acrylics on canvas has not been in the forefront due to issues with money and time, but I have been drawing and creating digital and mixed media art. If you have any ideas in regard to getting funding for paint and other art supplies, please, drop me a line! Happy New Year 2019 to Everyone!!!
November 30th, 2018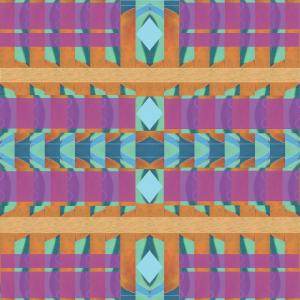 This past month my focus has been on digital art and design. Although I love getting my hands dirty with paint, digital art allows me to make very fast choices and changes and get good results in a fraction of the time that it takes me to create a completed painting by hand. As a designer, digital art is a great media for me and I often start creating surface designs for textiles and more with full or partial scans of my handpainted art and drawings. Also parts of photographs I have taken are not out of the question and very likely I will be moving even more to this direction in design in near future, at least to experiment. I work in many two dimensional media and occasionally create three dimensional works. I mainly paint with acrylics, which in my case usually have been layered many times to get the results I seek. I draw with ink and pen and pencil and also create mixed media and as earlier indicated, digital art. My subject matter ranges from abstract colorful works that are created to be mainly pleasureful eye candy to deeply spiritual and socially conscious yet surreal and most of the time playful works with strong aspects of abstraction. All of my art reflects my visions and understandings and at times I am called to paint more realistically, but my focus is really in imaginative art that deals more with inner visions, values and fantasy. My choices of subject matter and method are based on my passions and on what calls for me and attracts me enough for me to put the time into bringing it artistically into fulfillment. I expect people to see different things in my works based on their own passions and understandings. If you like my style but cannot find exactly what you are looking for, I invite you to commission me to make customized art or designs for you! It would be my pleasure to help bring more visual enjoyment into your life.
October 31st, 2018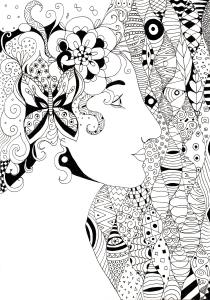 I have been drawing a lot lately. Mainly because I can do this so very spontaneously without much preparation and effort. I have been very busy handling many issues in my life and getting hold of a pad of paper and some ink pens is basically instantaneous. When it comes to drawing I also admit that I truly enjoy the movements that my hand makes with a pen or pencil on the paper. When I work with ink I do not make any pencil sketches but draw directly with ink on the paper. There is no erasing these markings, so anything unexpected will change the direction of my drawings, which are stream of consciousness anyway with one thing leading to another. Rarely do I use any external objects or people for reference but draw directly from my mind and imagination. To me drawing is a form of meditation. But so is painting, which I hope to continue in near future. I have some works in progress waiting for me to continue. But setting up to paint always requires more of my time than drawing and since I paint with acrylics and not oils, I also aim at using all the paints that I put on my palette during any session. It is normal for me to paint four or more hours at a time. I get totally emerged in making art and painting and there is always some previously unknown point that I need to arrive to. Or at least I need to make sure that I use up all the paints before they dry up. LOL
September 28th, 2018
These days the news are mainly filled with sad and bad and mad stories. We are definitely living in turbulent and chaotic times and many attitudes and values are hitting the fan seemingly spinning. I am hoping that this is the proverbial dark before the dawn. Change is in the air and old structures always need to be torn down to create room for the new. This demolition applies to both archaic notions about life and people and societies as well as just plain bad choices and values of those in power that have caused much destruction and outlived their questionable importance. Extreme opinions and reactions seem to be common now and there is much emotional commotion in the world. Patriarchy seems to be taking a nosedive and nobody wants Nero fiddling while Rome is burning. Looks like many people have had enough and they are not going to take it anymore. This brings to my mind the saying about the nature of worldly power. It really does corrupt even some well meaning people, not to talk about those whose intentions were selfish and greedy from the very start. Hatred and darkness and ignorance have risen to the top and even if they try, they cannot hide any longer. But I truly hope that all of this is another necessary phase in healing that which has been boiling below the surface for a very long time. I must say that I am optimistic about the possibility that the world just might be in a global healing crisis.

During any healing crisis things often get worse before they get better and even though it may be hard to see, I feel like there just might be light at the end of the tunnel. In times like this hope and appreciation can be powerful centering forces. Simplicity is one of those things that has great beauty and clarity and healing power. Things that are important to us and our survival and happiness can become grounding and nurturing and can make us focus on what is working for us in the world. This is why I painted Gifted By Nature. This painting of two peaches started with two delicious real life peaches and expanded from that to me thinking about the value of clean dirt and water and all the good things that make life possible and even enjoyable on this planet. Nature has gifted us with so much good that nowadays most of us mainly take for granted. I find that thinking about these things, like in this case, thinking about peaches with appreciation, is very centering. Life can be simple and wonderful instead of chaotic and nerve wrecking. When I concentrate on the simple things that I appreciate in life my focus automatically shifts from feeling hopeless to feeling more hopeful again and I feel my energy starting to move to the direction I wish to go. It is very true that happiness is an attitude that we can choose to experience by focusing and centering on what makes us feel good. After all, our own thoughts can take us down or lift us up. Do remember this when you find yourself at the mercy of your own mind. Life, just like vision, always happens in the eye and understanding of the beholder. Every one of us reaps our own interpretations on what is happening in the world. And in the meanwhile, independently, life goes on in the bigger picture.
August 31st, 2018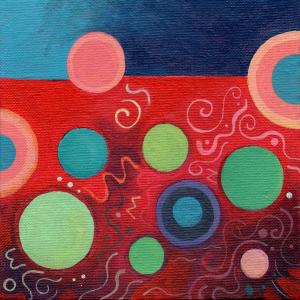 I am always fascinated by the individual nature of perception and I have come to the conclusion that we all literally only see things that we understand at least partially. The rest tends to escape us. The same seems to apply to focus, which calls for us to look and notice things relevant to what is important to us in the moment. It is possible that these behaviors might serve our survival and growth and even evolution. Or perhaps we are just called to endorse our perceptions of how we think things are and prove our viewpoints right. After all, human beings tend to prove their experiences and expectations right even when these are only one way of interpreting the truly multifaceted nature of reality. We all have to make sense of all that is somehow to keep our sanity, don't we? How many of us actually willingly stop to look at things that we do not understand? If you are one of the people who will just walk on by things that are not obvious to you and immediately call for your attention, how about at some point stopping to see what you might be missing. If nothing else, at least this will be educational. And maybe you will notice something that you did not see before and new ways of looking and seeing just might open up for you. This is why new experiences are so good for all of us. They literally expand our minds and this means that we are profoundly changed by gaining new understandings. How could this not be good in a world where people fight and argue and even kill over small and insignificant issues? Many of us could broaden up our understandings and grow bigger hearts.

Different ways of seeing is what originally motivated me to start my ongoing art project of alterable perspectives. I have been working on my The Joy of Design series since late 2012. I currently have 50 small original square acrylic abstract and semi-abstract paintings in this series and at this point I am aiming at making the total 100. I chose the square format for these individual paintings so that they can be easily and successfully displayed in any of the eight directions, including the four diagonal ones. I also chose the small format, currently ranging from 6 by 6 inches to 10 by 10 inches, so that these works can be displayed in groups and can also be easily scanned and used digitally as part of larger mixed media works. Just the other day some people got what my intention with these works is and that literally made my day. Often in life I feel misunderstood, in particular when it comes to my art. I appreciate that there are people who show interest in my works and most people will comment that they love the colors I use and that the works make them feel happy, but rarely does someone comment further on the interdependent content that to me seems clear. But I also have noticed that when I change, what I see and what stands out for me in my own works will also change. As time goes by I myself discover new aspects in my works. So it is clear to me that perception is fluid and not stagnant. I look forward to growing more as an artist and a human being. I have a desire to alter my perceptions and never to get stuck on just one way of seeing the essentially kaleidoscopic nature of reality.
July 31st, 2018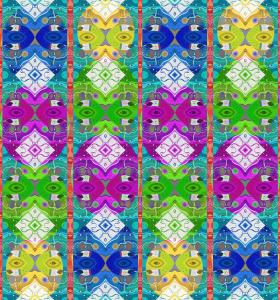 Well. It is the end of July today and it is my name day in Finland. The challenges I had in June spread into July. But now finally it seems that the major issue with the car is handled. It needed a new clutch and flywheel. These fixes were expensive, but necessary. Right now as I am typing this I am wondering about the direction that my art might be taking. For practice I started painting some more realistic works this month, which are still in progress. But I know in my heart of hearts that I am more into fantasy than into reality as observed through the camera lense. I do not really see any purpose in copying what I see out there in the world. Photography does this really well. I am more into the color and form and patterns and flow, into combining what I see with what I feel and what I think might be possible. I am into breaking new ground and into inspiration. But part of me feels like I am standing in some kind of a crossroads situation. Again, as always, time will tell. In the meanwhile, I have been very busy with numerous variations in The Joy of Design series which now has a total of 48 original acrylic paintings in it. Besides being complete small artworks on their own I also use these paintings in part or in full as building blocks in other mixed media works that I create, such as Colorful Expressions - A TJOD 48 Variation, image of which is illustrating this blog today.
June 30th, 2018
This June was difficult for me. I have been on the edge too many times this past month. Numerous issues ranging from general dismay with the affairs of the world to personal problems ranging from our only car breaking down twice this month (it is with the mechanic right now) to lack of income to some painful and annoying health issues have been part of my daily life lately. It has been a roller coaster ride and I am not the drama queen to enjoy these kind of ups and downs. Life can be scary and I have been forced to confront some of my fears face to face this month, which is now on its last day. This time I will not include any images in this blog. I am tired and my only hope is that July 2018 will be kinder. I do need to say that there are a couple of recent promising developments in the air. We shall see how these turn out. Future will tell and hope springs eternal...
May 17th, 2018
The Amedeo Modigliani painting selling recently for 157 million dollars in a Sotheby's auction got me thinking about the very peculiar nature of art sales and market. In 2015 one of Modigliani's paintings sold for even more, at 170 million dollars. This was an artist who in his lifetime created scandals with his nude paintings and much like Vincent Van Gogh, was poor and underappreciated in his lifetime. But now other people prosper and get rich from the art created by these and many other long ago and dead artists. Go figure. So many great living artists have a hard time making a living with their art in their lifetime and yet art is huge business, mainly benefiting others than the people who create or created the art. Somehow this just does not sit well with me. It adds to my sense of lack of justice in this world. Neither money nor art should be the golden bull that trumps good humane values, morals or ethics. Appreciation is good. Fair value is good. But when the wheeling and dealing becomes extreme, I cannot help but think that perhaps some people just really do have way too much money. Art should not be considered so much an investment as enjoyment. It is meant to be shared and seen, not locked hidden in some dark place because it is too valuable to take the risk of being shown in public. Now, if the work is commissioned by a patron, they might have the right to keep it hidden and for their own eyes only. But if the piece was not created commissioned, it should be seen by the world if the artist so wishes. These are my personal opinions that may or may not be shared by you. I think original art should be affordable. Not too cheap nor too expensive but of fair value. The downside of these outrageous auctions is that there are people who think that they, and not the artist, should be able to state the monetary value of any piece of art without knowing anything at all about the time and effort involved by the artist. This can lead to underbidding and low offers which nearly any artist will encounter at some point in their career. We human beings are strange creatures and the more money and power we have the more bizarre the extreme behaviors in some of us will likely become. The art market of some dead artists' work is simply dizzying when it comes to monetary exchanges that take place in the auctions. These are games that some extremely rich and privileged people play while others starve. This world is a very strange place indeed and we have a long way to go to get to the mountain top of humanity. Too many entities in this world still make money in even way more questionable ways than auctioning out the works of dead artists for huge profits. I want to add that I personally appreciate all of my clients and I try to price my art very fairly, based on the size and time and effort I put into any of my works. Thank you to all of you who have bought and continue to buy my art and also buy the work of other contemporary artists! Living artists need your support.
April 4th, 2018
I have decided to blog on average about once a month. Not on any particular day of the month, but monthly, any time between the 1st and 31st day of any given month. You see, the main reason I blog is to give people interested in my art more insight into it from my viewpoint. I know this world is full of bloggers and blogs and overall overwhelming with information coming at us from every angle possible. We all need some space of our own, some breathing room, some peace and quiet. I also know that individual needs and wants can vary greatly from person to person. I myself have a huge desire for harmony and balance and simple enjoyment of existence nowadays. I find the outside world disturbing with all the chaos and violence that comes through the news on TV and the social media. This makes me want to create peace where ever I can. I also find humor to be comforting. You might see an increasing amount of whimsy in one form or another in my work. Some of it might be satire, because I do have a taste for the strange, odd and unusual aspects of life, but I really basically do not enjoy the macabre. So, all in good humor! I appreciate you viewing my blogs and feel free to comment if you are so inclined. Happy Spring to You!