September 28th, 2018
These days the news are mainly filled with sad and bad and mad stories. We are definitely living in turbulent and chaotic times and many attitudes and values are hitting the fan seemingly spinning. I am hoping that this is the proverbial dark before the dawn. Change is in the air and old structures always need to be torn down to create room for the new. This demolition applies to both archaic notions about life and people and societies as well as just plain bad choices and values of those in power that have caused much destruction and outlived their questionable importance. Extreme opinions and reactions seem to be common now and there is much emotional commotion in the world. Patriarchy seems to be taking a nosedive and nobody wants Nero fiddling while Rome is burning. Looks like many people have had enough and they are not going to take it anymore. This brings to my mind the saying about the nature of worldly power. It really does corrupt even some well meaning people, not to talk about those whose intentions were selfish and greedy from the very start. Hatred and darkness and ignorance have risen to the top and even if they try, they cannot hide any longer. But I truly hope that all of this is another necessary phase in healing that which has been boiling below the surface for a very long time. I must say that I am optimistic about the possibility that the world just might be in a global healing crisis.

During any healing crisis things often get worse before they get better and even though it may be hard to see, I feel like there just might be light at the end of the tunnel. In times like this hope and appreciation can be powerful centering forces. Simplicity is one of those things that has great beauty and clarity and healing power. Things that are important to us and our survival and happiness can become grounding and nurturing and can make us focus on what is working for us in the world. This is why I painted Gifted By Nature. This painting of two peaches started with two delicious real life peaches and expanded from that to me thinking about the value of clean dirt and water and all the good things that make life possible and even enjoyable on this planet. Nature has gifted us with so much good that nowadays most of us mainly take for granted. I find that thinking about these things, like in this case, thinking about peaches with appreciation, is very centering. Life can be simple and wonderful instead of chaotic and nerve wrecking. When I concentrate on the simple things that I appreciate in life my focus automatically shifts from feeling hopeless to feeling more hopeful again and I feel my energy starting to move to the direction I wish to go. It is very true that happiness is an attitude that we can choose to experience by focusing and centering on what makes us feel good. After all, our own thoughts can take us down or lift us up. Do remember this when you find yourself at the mercy of your own mind. Life, just like vision, always happens in the eye and understanding of the beholder. Every one of us reaps our own interpretations on what is happening in the world. And in the meanwhile, independently, life goes on in the bigger picture.
August 31st, 2018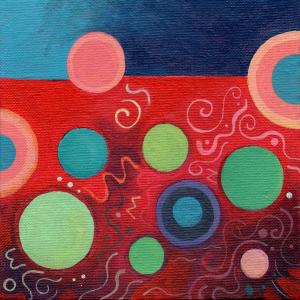 I am always fascinated by the individual nature of perception and I have come to the conclusion that we all literally only see things that we understand at least partially. The rest tends to escape us. The same seems to apply to focus, which calls for us to look and notice things relevant to what is important to us in the moment. It is possible that these behaviors might serve our survival and growth and even evolution. Or perhaps we are just called to endorse our perceptions of how we think things are and prove our viewpoints right. After all, human beings tend to prove their experiences and expectations right even when these are only one way of interpreting the truly multifaceted nature of reality. We all have to make sense of all that is somehow to keep our sanity, don't we? How many of us actually willingly stop to look at things that we do not understand? If you are one of the people who will just walk on by things that are not obvious to you and immediately call for your attention, how about at some point stopping to see what you might be missing. If nothing else, at least this will be educational. And maybe you will notice something that you did not see before and new ways of looking and seeing just might open up for you. This is why new experiences are so good for all of us. They literally expand our minds and this means that we are profoundly changed by gaining new understandings. How could this not be good in a world where people fight and argue and even kill over small and insignificant issues? Many of us could broaden up our understandings and grow bigger hearts.

Different ways of seeing is what originally motivated me to start my ongoing art project of alterable perspectives. I have been working on my The Joy of Design series since late 2012. I currently have 50 small original square acrylic abstract and semi-abstract paintings in this series and at this point I am aiming at making the total 100. I chose the square format for these individual paintings so that they can be easily and successfully displayed in any of the eight directions, including the four diagonal ones. I also chose the small format, currently ranging from 6 by 6 inches to 10 by 10 inches, so that these works can be displayed in groups and can also be easily scanned and used digitally as part of larger mixed media works. Just the other day some people got what my intention with these works is and that literally made my day. Often in life I feel misunderstood, in particular when it comes to my art. I appreciate that there are people who show interest in my works and most people will comment that they love the colors I use and that the works make them feel happy, but rarely does someone comment further on the interdependent content that to me seems clear. But I also have noticed that when I change, what I see and what stands out for me in my own works will also change. As time goes by I myself discover new aspects in my works. So it is clear to me that perception is fluid and not stagnant. I look forward to growing more as an artist and a human being. I have a desire to alter my perceptions and never to get stuck on just one way of seeing the essentially kaleidoscopic nature of reality.
July 31st, 2018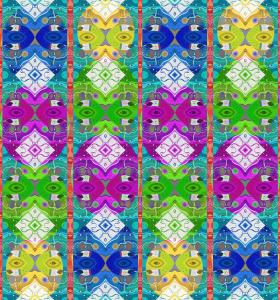 Well. It is the end of July today and it is my name day in Finland. The challenges I had in June spread into July. But now finally it seems that the major issue with the car is handled. It needed a new clutch and flywheel. These fixes were expensive, but necessary. Right now as I am typing this I am wondering about the direction that my art might be taking. For practice I started painting some more realistic works this month, which are still in progress. But I know in my heart of hearts that I am more into fantasy than into reality as observed through the camera lense. I do not really see any purpose in copying what I see out there in the world. Photography does this really well. I am more into the color and form and patterns and flow, into combining what I see with what I feel and what I think might be possible. I am into breaking new ground and into inspiration. But part of me feels like I am standing in some kind of a crossroads situation. Again, as always, time will tell. In the meanwhile, I have been very busy with numerous variations in The Joy of Design series which now has a total of 48 original acrylic paintings in it. Besides being complete small artworks on their own I also use these paintings in part or in full as building blocks in other mixed media works that I create, such as Colorful Expressions - A TJOD 48 Variation, image of which is illustrating this blog today.
June 30th, 2018
This June was difficult for me. I have been on the edge too many times this past month. Numerous issues ranging from general dismay with the affairs of the world to personal problems ranging from our only car breaking down twice this month (it is with the mechanic right now) to lack of income to some painful and annoying health issues have been part of my daily life lately. It has been a roller coaster ride and I am not the drama queen to enjoy these kind of ups and downs. Life can be scary and I have been forced to confront some of my fears face to face this month, which is now on its last day. This time I will not include any images in this blog. I am tired and my only hope is that July 2018 will be kinder. I do need to say that there are a couple of recent promising developments in the air. We shall see how these turn out. Future will tell and hope springs eternal...
May 17th, 2018
The Amedeo Modigliani painting selling recently for 157 million dollars in a Sotheby's auction got me thinking about the very peculiar nature of art sales and market. In 2015 one of Modigliani's paintings sold for even more, at 170 million dollars. This was an artist who in his lifetime created scandals with his nude paintings and much like Vincent Van Gogh, was poor and underappreciated in his lifetime. But now other people prosper and get rich from the art created by these and many other long ago and dead artists. Go figure. So many great living artists have a hard time making a living with their art in their lifetime and yet art is huge business, mainly benefiting others than the people who create or created the art. Somehow this just does not sit well with me. It adds to my sense of lack of justice in this world. Neither money nor art should be the golden bull that trumps good humane values, morals or ethics. Appreciation is good. Fair value is good. But when the wheeling and dealing becomes extreme, I cannot help but think that perhaps some people just really do have way too much money. Art should not be considered so much an investment as enjoyment. It is meant to be shared and seen, not locked hidden in some dark place because it is too valuable to take the risk of being shown in public. Now, if the work is commissioned by a patron, they might have the right to keep it hidden and for their own eyes only. But if the piece was not created commissioned, it should be seen by the world if the artist so wishes. These are my personal opinions that may or may not be shared by you. I think original art should be affordable. Not too cheap nor too expensive but of fair value. The downside of these outrageous auctions is that there are people who think that they, and not the artist, should be able to state the monetary value of any piece of art without knowing anything at all about the time and effort involved by the artist. This can lead to underbidding and low offers which nearly any artist will encounter at some point in their career. We human beings are strange creatures and the more money and power we have the more bizarre the extreme behaviors in some of us will likely become. The art market of some dead artists' work is simply dizzying when it comes to monetary exchanges that take place in the auctions. These are games that some extremely rich and privileged people play while others starve. This world is a very strange place indeed and we have a long way to go to get to the mountain top of humanity. Too many entities in this world still make money in even way more questionable ways than auctioning out the works of dead artists for huge profits. I want to add that I personally appreciate all of my clients and I try to price my art very fairly, based on the size and time and effort I put into any of my works. Thank you to all of you who have bought and continue to buy my art and also buy the work of other contemporary artists! Living artists need your support.
April 4th, 2018
I have decided to blog on average about once a month. Not on any particular day of the month, but monthly, any time between the 1st and 31st day of any given month. You see, the main reason I blog is to give people interested in my art more insight into it from my viewpoint. I know this world is full of bloggers and blogs and overall overwhelming with information coming at us from every angle possible. We all need some space of our own, some breathing room, some peace and quiet. I also know that individual needs and wants can vary greatly from person to person. I myself have a huge desire for harmony and balance and simple enjoyment of existence nowadays. I find the outside world disturbing with all the chaos and violence that comes through the news on TV and the social media. This makes me want to create peace where ever I can. I also find humor to be comforting. You might see an increasing amount of whimsy in one form or another in my work. Some of it might be satire, because I do have a taste for the strange, odd and unusual aspects of life, but I really basically do not enjoy the macabre. So, all in good humor! I appreciate you viewing my blogs and feel free to comment if you are so inclined. Happy Spring to You!
March 10th, 2018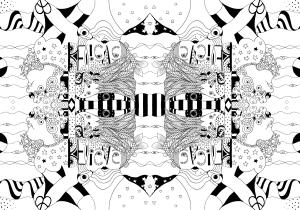 I do not know about you, but most of the time nowadays I feel drained and exhausted. Some of this is due to the challenges I am facing in my own life and some of it has to do with the increasing craziness that seems to be going on in this world. Every day now we hear many sad news. More often than I remember ever before, someone has lost their mind and ends up killing a bunch of people, sometimes including themselves. The amount of stress seems overwhelming and I even know some people who have decided to insulate themselves by no longer following news or participating in the social media. I personally find making art to be stress relieving. I pour the craziness that I experience in the world onto the paper and let it rip. This is how my wild drawings are born. They are pretty much uncensored stream of consciousness in black on white. Or in grey. And sometimes the other way around. Always with a touch of humor, either light or dark. My paintings tend to be more abstract at this point, but some of them, once or twice removed, originate from the drawings. If you are not channeling your emotions into creative action, I highly recommend that you find something that brings you peace and motivation and helps you center. Being an artist who tries to make their living with their art is very challenging and can be extremely frustrating, but I have not heard of any artists committing mass murders lately... so, cultivate your humanity and empathy and compassion by expressing yourself in a non-violent and meaningful way that brings you fulfillment and gives you hope and opens up your heart to love.
February 20th, 2018
To me making art is both meditation and exploration. It literally means spilling my mind out on the surface that I create on and to large degree the results are often surprising. I start all of my art with some notion. This may be a very abstract notion, like being drawn to a particular color or colors or forms, or a more specific inspiration triggered by any number of stimuli and observations. But mainly I draw and paint from my mind and rarely use direct external objects or models that I try to capture. The Joy of Design Mandala Series Puzzles take my work to a different level where I use the scans of my handpainted works in The Joy of Design series as building blocks with which I create more art and digital computer software programs make this process possible in a most effective way. In reality I am very much into the micro and macro of things because things can look very different in close proximity and in far distance. I play with these concepts when I use the scans of my handpainted works or drawings to compile images that may contain several, even tens or hundreds of scans. To make things more concrete and give you a perspective of measure, The Joy of Design Mandala Series Puzzles are created with 64 scans each. The works derived from The Joy of Design Mandala Series Puzzles contain much more than this. In the case of TJOD Mandala Series Puzzle 7 Arrangement 3 Multiplied you are looking at an image created with a total of 256 scans. There are works that have more scans than this in them and every increment will change the perspective. Symbolically this is all about widening my own perspectives and seeing differently. And I have to say that it is amazing what can show up when images are combined and united. But it is even more amazing what can happen when people unite for a good cause and call for change. After all, whether we acknowledge it or not, every one of us is part of a much bigger and more beautiful picture than we could ever imagine!
February 12th, 2018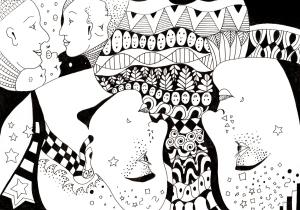 Just in case you have not noticed, I create drawings that usually work in two or more directions. The ability of an image to work in more than one orientation has become increasingly frequent and important in my art. This has to do with my curiosity and experimental mind and the way that I look at both my inner and outer worlds. Like I have mentioned before, I look at things the way that most people do, which is for the role that these things play in my life. I also look at things as just color and form and besides this I seek to see what those forms and colors resemble otherwise. What else can I see outside of my usual ways of looking and perceiving? This leads to very imaginative pursuits. One might call it visual stream of consciousness poetry. I think imagination is one of the biggest gifts that we have. After all, whether good or bad, everything humanity has created started in somebody's imagination! Also, new and different ways of seeing and looking can truly broaden our horizons and maybe enable us to come up with new solutions to problems that have plagued humanity for ages. It is good to change our perspectives. So how about it? Are you willing to look at what you see with fresh eyes? Can you see differently? Can you turn your previous notions upside down? There is no right or wrong in this pursuit. Remember that play is important for both mental and emotional wellbeing.
January 26th, 2018
You might be familiar with my The Joy of Design acrylic painting series, which is ongoing with currently 43 completed original paintings in it. If you are not familiar with these originals, I invite you to take a look at my The Joy of Design Series Originals Gallery here at FAA/Pixels. All of these paintings can hang in any of the eight directions either alone or in groupings with each other. They are all created with pure joy of expression that flows from my heart through my hands to my brush and onto the canvas.These paintings are all abstract and semi-abstract. They are organic, figurative and geometric abstractions and they range from 6 x 6 to 10 x 10 inches in size. Future paintings may introduce other measurements in square format. Anything is possible and this remains to be seen. All of The Joy of Design Mandala Series Puzzles are created with high resolution scans of the original paintings. Currently there are six completed TJOD Mandala Series Puzzles, with nine arrangements in each and I have just completed number 2 arrangement in The Joy of Design Mandala Series Puzzle 7, so, there are seven more arrangements for me to create in Puzzle 7. The nine arrangements in each series are completed by arranging a set of chosen scans over and over again in different ways to create variations of what is possible with the chosen set of scans. I see this process as very symbolic. Human beings tend to view any chosen circumstance in one way and rarely play with the factors to see what else might be possible. In the Mandala Puzzles, I deliberately take on viewing other possibilities and create different outcomes by altering the placement of the 64 individual panels that built the bigger picture. This allows me to see things differently, since what is placed next to each other defines the illusions that show up in these mandalas. I see this as creative play with some delicious eyecandy that hopefully empowers others as well to look differently than the way we are used to looking and seeing. Mind is a powerful tool and hopefully it will stay flexible and not become stagnant. In order to create a better world, we need to create better visions and change the way we are used to looking at things. The Joy of Design Mandala Series Puzzles are created to encourage creative abstract thinking. As a matter of fact I would love to find a way to create an alterable puzzle play with this series of digitally collaged acrylic paintings. Much more is possible than using the scans I have chosen to create nine variations of each puzzle. I see the potential as totally limitless and not bound by any representative forms, like puzzles usually are. I myself have already created hundreds of digital collages by using and also altering the original art in The Joy of Design Series. I invite you to contact me, if you have any questions or might be interested in creating digital puzzle games with the originals in the TJOD series of paintings.